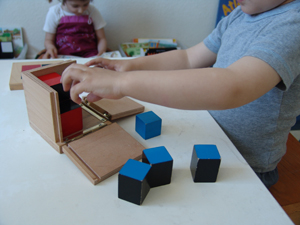 Our School
"Help me do on my own" : this sentence sumps up in an accurate way the content of Maria Montessori's pedagogy. While we rigorously respect the syllabus of French "Education Nationale", our pedagogy is structured around discovery and experimentation.
In our school, the child's blossoming is overriding.
---
Montessori pedagogy
This pedagogy privileges the development of intelligence instead of automatisms. It favors personal approaches of learning and gives many tools to the children that will, among many other things, give them the ability to become self-governing free-thinkers.
It is an education of respect. It takes into account each and everyone's personality and offers a big range of activities, allowing the child's need to know, to touch, to discover the world around them thanks to their vitalized senses.
In order for those potentials to bloom, a consistent pedagogic material is adapted for the children's disposal. Therefore, individual and collective activities are possible while respecting the children's pace as well as the organization of the class.
Not just a school : a way of life
Our teaching control is an alternate to the traditional way and is acknowledged worldwide.
In our school, education is considered as a help to life. Our team develops and encourages self-governance, will and a sense of responsibility of the children. The Montessori teachers invite the pupils to become responsible for themselves, sympathetic and aware of the world around them. In a classroom atmosphere especially created for them, the children are invited to acquire many different skills that will offer them a lively, clever and open culture of the world.
Every child is well-attended. In every classroom, a daily work of quality conducts every child. The learning pace of each and every child is respected. The parents are not forgotten for they are welcomed, advised and informed on a regular basis.