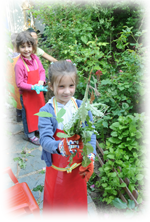 Nursery (from 2 to 3 years old)
An ideal footbridge
Our nursery welcomes children from 2 in order to favour a gentle passing from home (the nanny, preschool, crêche or kindergarden) to the school.
---
An adapted reception
The separation with the parents is matured in a gentle way. The adaptation period is modifiable so that the child can feel secure.
The reception and the departure are personalized.
The child doesn't need to be toilet trained to be welcomed at the school.
Each and every child's own pace, time of rest and habits are respected (feeding-bottle, transitional object, teat, meal, etc…)
The child opens up to the others and wakes up in a different way.
In the nursery, the child is free to move in the classroom as he wishes, and that is valid for his entire way inside la Maison des Enfants.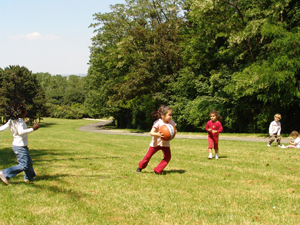 All their senses are called-up around individual or collective, freely accessible activities that are structured around discussions, stories, songs and all sorts of animations…
In the classroom, the children are invited to express verbally how they feel in order to have a better grasp on life in society.
---
© La Maison Des Enfants
legal
contact@maisondesenfantsmontessori.com

Saving ...

Saved

Modified

Save failed, please try again later