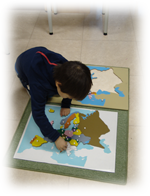 The school for 3-6 years old
One classroom for everyone !
The cohabitation of children from 3 to 6 favours mutual aid, exchanges, respect and sympathy. It both beneficiates the little ones as well as the oldest ones. Thus, the youngest have "role models" that are incentive to imitate, and the oldest ones can strengthen their ease, by reinforcing their knowledge and by helping the youngest ones. This cohabitation is the basis for a social and professional future life based on empathy, collaboration and motivation.
---
No competition here !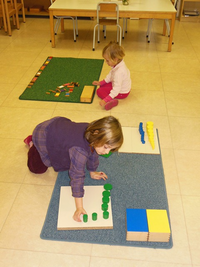 several activities are proposed
Every child works either individually or collectively. The progresses that they make are only quantifiable in regard to their previous work, in respect of their own needs and by taking into account the variations of their own pace.
The heart of our pedagogic approach is to develop the potential of each and every child.
An incentive and blooming place for all children
Beyond the use of the pedagogic Montessori material and the practice of two languages on a daily basis, many other more activities are proposed : music awakening, physical education, field trips, library, arts workshops…
The program for our Montessori schools (private and secular) is similar to the one given by French "Education Nationale", but is addressed in a different way: in a sensory and playful way. In the classroom, the child isn't a passive spectator but instead becomes the main actor of his daily life. .
---
© La Maison Des Enfants
legal
contact@maisondesenfantsmontessori.com

Saving ...

Saved

Modified

Save failed, please try again later