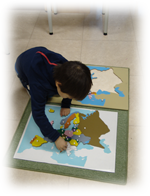 Elementary School
Since Spetember 2006, an elementary school has opened in Montreuil, at the same adress as our nursery school : Enfants du Monde (Children of the World). The pedagogic approach, ethics and the goals of both of our schools are connected while there are financially and juridically independant from one another.
---
© La Maison Des Enfants
legal
contact@maisondesenfantsmontessori.com

Saving ...

Saved

Modified

Save failed, please try again later